Find answers to frequently
asked questions
SHOPPING THROUGH OUR B2B PLATFORM
ACCOUNT REGISTRATION
ON OUR B2B PLATFORM
ACCOUNT REGISTRATION ON OUR B2B PLATFORM
After registration on our website, our customer service department will contact you to verify your business profile. Our company works only with distributors in our industry. If your business is outside the industry, your registration will be rejected.
Our company cooperates only with distributors of product categories that are in our supply. Therefore, attempts to register retail and individual accounts will be rejected. Retailers are invited to look for our products in the stores of our partners and distributors.
SHIPPING ORDERS
MARKETING SUPPORT
– MATERIALS FOR OUR CUSTOMERS
MARKETING SUPPORT – MATERIALS FOR OUR CUSTOMERS
Yes, all marketing materials are available to download at our website. However, they must remain unchanged. We encourage you to use our Marketing Support section:
Taking care of the environment, we resigned from printing of catalogues. Our catalogues are available electronically on our website.
After logging in to the platform on your account, go to the Account/My Orders tab, then select the order number to which you want to download photos. Then click Order Photos.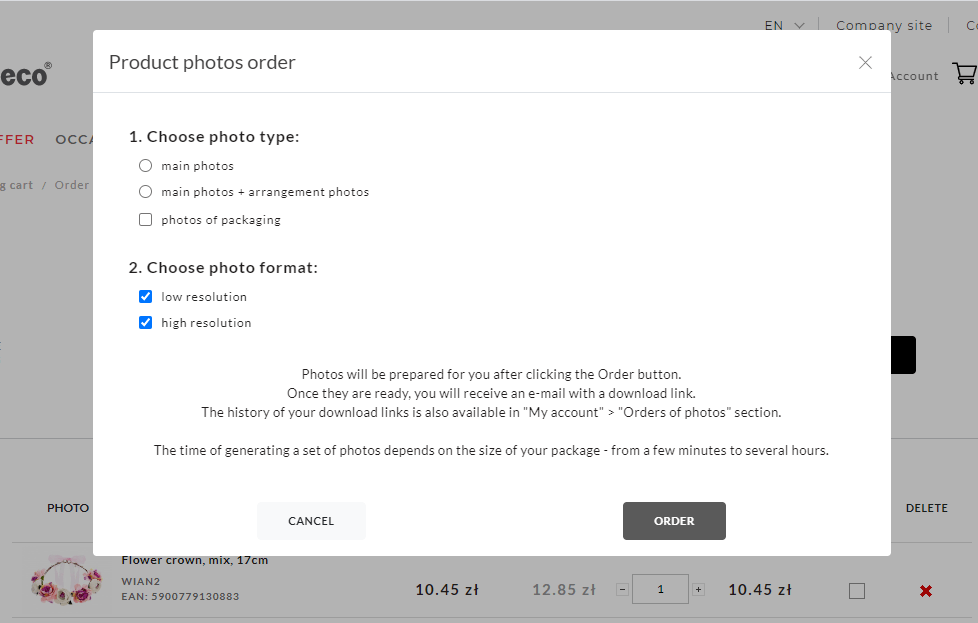 CLAIMS
Claims regarding defective goods and inconsistencies in the quantity of goods received should be reported immediately after receiving the shipment (up to 14 days after its receipt). Claims regarding hidden defects and claims under the warranty are accepted up to 6 months from the date of purchase.
Please lodge your claim via e-mail to the e-mail address: reklamacje@partydeco.com and include all the necessary information, such as the reason for the claim, the product symbol, the quantity of the goods being complained about and photos of the goods in case of damage.
Check the goods in the presence of the courier. In the event of damage to the products, remember to write a damage report with the courier. After writing it, send the document with the necessary information to lodge a claim (list and number of damaged products) to the e-mail address reklamacje@partydeco.com
API/EDI
If your questions have not been answered here, please feel free to contact us